Learn The Basics Before You Buy
So you've decided to buy a dash cam and now you're wondering which one to order, right?
Well, that would depend on how you plan to use your camera…
If you don't mind. Before you start unboxing let's go over a few things, ok?
For example, if you only plan to use it for recording while commuting to work or creating a video as you drive around town, then the best dash cam to get is one that has basic features and costs between $25 – $50.
Whereas, on the other hand, if you love tech and accessories then you'll want to check our premium dash cam gear under $200.
What you'll learn in this guide:
In this Basic Guide about Dash Camera features and what they do, you'll quickly learn about 11 common functions found on most new dash cams these days.
Ready? Let's get going…
Dash Camera Basics for Beginners
---
#1 – Full HD – The first whistle you'll want your Dash Camera to have is 1080P Full HD. Gone are the days of 720P video and now video technology is high-high definition. Make sure any camera you look at comes equipped with Full HD.
#2 – Wide Angle Recording is also a must-have feature for a dash camera to have. You want at least 120 degrees or better to capture the full width of the road as you're driving. This will also allow for capturing side medians.
#3 – Audio Recording is important too so that you can narrate the video as you drive. Some new models even capture sound outside the vehicle. Read reviews because some dashcams have a poor audio recording.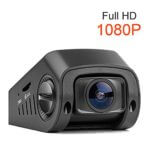 #4 – Micro SD Card support for storing video content, 64 GB is best, especially for long trips. Micro SD cards allow you to remove the card and insert it into your computer or your cell phone for easy replay.
#5 – Battery Life is extremely important so make sure any dashcam you consider has details on battery life. Read the reviews to see what verified customers say about battery life. How long does a charge last? Also, is it easy to recharge? And how long it takes to recharge? Some new dashcams now come with capacitors instead of batteries. Make sure to read reviews before buying…
#6 – Screen Size is a key feature. Average dashcam screen size is 2.7 inches but some models have much larger screens and you'll obviously pay more for a bigger screen.
#7 – G-Sensor measures G-Force in 3 dimensions to capture impact if you're in an accident. This is not a must have but most dashcams now come with a G-Sensor as a standard feature. Basically, any vibration can tip the 'on' switch.
#8 – GPS Tracking allows satellite tracking of a vehicle when the camera is rolling. This is a cool feature that can be used with Google Maps.
#9 – Night Vision for recording when there's low light. This is important for long trips, especially when the trip extends from daytime into the evening.
#10 – Software Apps for downloading your videos onto your computer or cell phone. Or for managing the dashcam remotely.
#11 – Built-in-Wifi is optional. Although WiFi comes in a lot of higher end dash cameras to allow uploading video to the cloud or for allowing remote control of the camera via a cell phone. A nice to have feature if you want more control and have the budget…
---
Dash Camera Guide: Basic Features
Are you ready to see some of the best dash cameras on the market today? Good!
For the next step, let's jump over and review the 10 Best Selling Dash Cameras