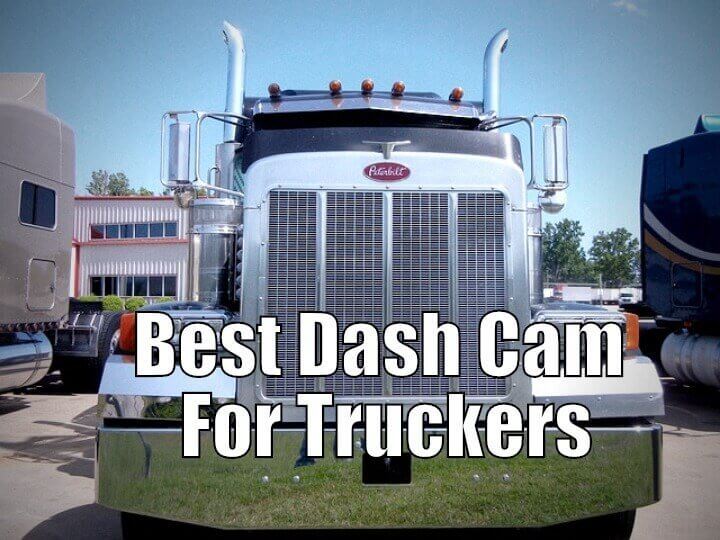 Do you live on the road driving from state to state in all types of weather and road conditions?
Never knowing when an idiot in a small car will pull out in front of your rig from a blind spot…
It wasn't your fault!
Wouldn't it be great to have a camera rolling when it happens so you have a video of the incident?
Multipurpose Dashboard Cameras
Many truckers already have dash camera gear that they use in their pickup or car. Then all they have to do is remount it on the dashboard or windshield of their rig and plug it into the 12v accessory power outlet.
The best dash cam for truckers is the one that's mounted and turned on, even a cheap kit is better than nothing.
How do I pick a dash cam?
You may not need a dual-lens kit with front and rear cameras but you definitely want a good wide angle view of the front of your cab.
And you'll probably want something nice with GPS, Night Vision, 32GB Storage, Motion Detection, HD Video and Audio Recording. For more information about camera features check out our dashcam beginner's guide.
BTW, motion detection and night vision will monitor what's going outside while you sleep…
Below you'll find a list of 10 cameras for you to review. The prices are low, medium and high, to fit every budget and use case – even to record a trucker vlog for posting on YouTube…
Best Dash Cam For Truckers (10 Rigs For You)
Bestseller No. 1
WheelWitness HD PRO Dash Cam with GPS - 2K Super HD - 170° Lens - 16GB microSD - Advanced Driver Assistance - For 12V Cars & Trucks - Night Vision Dashboard Camera Ambarella A7LA50 Car Security DVR
FREE 16GB microSD 2560x1080 / 2306x1296P SUPER HD - The highest resolution currently available on any dash camera. Everything is recorded in crisp, 2304x1296P resolution allowing you to see the most detail.
WDR (WIDE DYNAMIC RANGE) / HDR Technology - WDR technology allows for the best night video. WDR is able to show a fully balanced exposure, with the ability to compensate light and dark spots of the frame in one shot.
3x MOUNTS FOR MULTIPLE VEHICLE - 2 Sticky Mounts + 1 Suction Cup PLUG & PLAY - Once a microSD card is inserted, all you need to do is plug the camera in to the cigarette lighter outlet and it will start recording automatically.
GPS Enabled - Follow your video alongside a Google Maps screen showing you exactly where you were! EXTRA WIDE ANGLE LENS - The dash camera is equipped with a 170 degree extra wide angle lens that allows you to capture absolutely everything that you see in front of your vehicle.
CONTINUOUS LOOP RECORDING - The HD PRO will start recording automatically and will fill up the microSD card until full. Then it will automatically delete the oldest file and replace it with the new. Allowing for fully automatic and continuous playback!
Bestseller No. 2
Ivation Dash Cam HD 1296p Video, GPS & Audio Recorder, Wide Angle Lens, Motion Detection, G-Sensor, Low Light Dashcam, Best Dashboard Camera for Car & Truck (Includes Extra Dash Mount)
Best Choice: Secure Your Vehicle With This Reliable Sleek Hidden Small Dash Board Cam; Top Rated DVR CarCam, Recommended By UBER Drivers and Professionals. The Blackbox Will Bail You Out When You Really Need It, Insuring Your Safety and Security So You Can Drive with Confidence and Peace Of Mind.
Must Have: Main Reasons; Prove Your Case in the Event of a Crash-Accident; Get Out of a Police Ticket When Fined Wrongfully; Defends against Insurance Fraud and Rate Hikes; Prevents Teenager's Reckless Driving; Records Unexpected Events; Share the Fun with Family, Friends or the World.
Built-in GPS Antenna Tracking; Automatically Adjusts EV Value To Capture Highest Quality Video In Any Environmental Ambient Lighting. HDR High Dynamic Metering Compensation to Record The Best Footage at any Time of The Day, More Dynamic & The Smallest Of Details.
G-SENSOR - Emergency Overwrite: Once The Front Mount Auto Dashcamera Detects any Impact like Drastic Braking, Sharp Turns, it Will Enable Emergency Recording and the File Will Be Write-Protected. Loop Recording Insures You to Always Capture the Latest Footage.
Motion Detection, Parking Mode: Automatic ON When Automobile Starts; Motion Detection Setting Triggers Recording When Movement Is Sensed, Providing Valuable Evidence In The Case Of Vandalism; Play Back The Footage on the Camcorder LCD Display or Review On Your PC; 100% CUSTOMER SATISFACTION GUARANTEED.
Bestseller No. 3
KDLINKS X1 Full-HD 1920 x 1080 165 Degree Wide Angle Dashboard Camera Recorder Car Dash Cam with GPS, G-Sensor & WDR Superior Night Mode
Full-HD Video 1920*1080 at 30 fps, super wide 165° angle. The X1 dash cam can automatically record hands-free in a continuous loop. Large 2.7" screen, super slim design. Come with 8GB micro SD card, ready to use right out of the box.
Superior Night-vision by world class F1.6 Six-Glass lenses, and unique dashcam WDR (Wide Dynamic Range) video system (Similar to HDR technology in Camera)
Built-in GPS module precisely record GPS data into dash cam video clips, and you can check vehicle location/speed/route on Google Map through included KDLINKS Dashcam Player Software
Emergency Lock Button & Accident Auto Detection Feature (G-Sensor) can lock current video file for you. Safety First: High Quality Li-polymer 3.7v 110mah battery can bear high/low temperature, with official MSDS report and the most strict PONY Lab Certificate (Tested: 6+ hours in 170°F, 6+ hours in -40°F).
One Year Warranty To Cover Any Dash Cam hardware Issues. First Class best support for all customers. All emails would be replied in 24 hours, and 100% satisfaction guaranteed.
Bestseller No. 4
Dash Cam, Dual Lens Car Dash Camera Recorder 1080P FHD 170° Wide Angle 4.3 Inch Front and Rear with Night vision, G-SENSOR, Loop Recording ,Parking Monitor and LCD Screen
EASY MOUNTING: Easily and securely mount to your windshield in seconds with the included suction cup or double-sided 3M pad. Even easier to remove if you don't want to leave it mounted after your drive - just unplug the power cable and instantly unclip the dash camera from the mount
DUAL SUPER HD RECORDING: Never miss a license plate in Super HD 1920x1080P at 30FPS for front camera and rear view camera - ultra wide 170-degree viewing angle captures more of the road around you - built-in 450mAh battery enables 15mins recording without power input - record in stunning Full HD 1080P at 30FPS with rear camera disconnected - features 4.3-inch scratch resistant LCD display screen with PiP display
LOOP RECORDING FEATURE. Set it and forget it. With loop recording enabled, users will have the option to record videos in loops of 3, 5, or 10minute video files. The camera will record these files one by one onto the SD card until it runs out of space. Then, the camera will start from the first files recorded, and delete the files from oldest to newest, one by one
WDR (WIDE DYNAMIC RANGE) / HDR Technology - WDR technology allows for the best night video. WDR is able to show a fully balanced exposure, with the ability to compensate light and dark spots of the frame in one shot
CAPACITOR POWER: Leveraging the battery power of your vehicle, resisting overheating up to 140 °F when the vehicle is left under a hot sun with the windshield is open. It's opposed to the internal battery power that is much higher temperature resistance and does not sharply degrade over time in function and durability.18-month warranty To Cover Any Dash Cam hardware Issues. Customer Service Team is standing by to assist you. 100% satisfaction guaranteed.
Bestseller No. 5
Watolt Dash Cam - 3.0" Large LCD Dash Camera Recorder for Cars Trucks, with Auto On Off, Loop Recording, and G-Sensor Emergency Recording
EASY TO USE - Auto On/Off: The Watolt dash cam starts recording when the car engine is turned on and stops when it is turned off.
GOOD ENOUGH AS A WITNESS - Default 720p Recording: Good enough as a witness, Good for long term loop recording . You can change the camera setting to 1080p.
LOOP RECORDING: When space on the SD card runs out, the dashcam will start from the first file recorded, and delete the files from oldest to newest.
EMERGENCY RECORDING FEATURE - Enabled by G-sensor technology, the dash cam automatically saves footage in the events leading up to a collision and immediately after.
LIGHTWEIGHT: No damage to your car if it's accidentally dropped.
Bestseller No. 6
Dash Cam 4K Car Camera DVR Recorder Built In WiFi and GPS APP Support, G Sensor, Loop Recording, Parking Monitoring, 2.4" LCD, 150 Degree Wide Angle Lens
1.Ultra 4K HD Resolution: support 6 resolution Mode, high up to 2880X2160p at 24fps and 1920X1080p at 60fps in video resolution.150 degree wide angel lens will reduce blind spots and obtain full 3 lane coverage. F1.8 large aperture achieves better lighting to work out the best image quality, night time performance and super clear videos.
2.Build-in WIFI and GPS: With the built-in WiFi function& APP support, you will easily get access to your videos and instant control of your dash cam settings, enjoy sharing your trip with friends. GPS route recording function will precisely record your location/speed/route into video clips on Google Map. GPS player software will need to be installed first.
3.G-Sensor & Motion Detection: G-sensor helps to record and lock emergence videos which will not be overwritten. Triggered by the Motion Detection, In parking mode the camera will auto record movements after you leave, safeguard your car with evidence.
4.Loop Recording: With loop recording enabled, drivers can choose the loop from 3/ 5/ 10 minute video recording. The camera will record files one by one until card runs out of space. Then, the camera will overwrite the files from oldest to newest except the locked ones. NOTE: Requires 8 - 32GB Class10 or above micro SD card, which is Not INCLUDED with the dash cam. Please use 8-32G Kingston /Samsung /SanDisk memory card. Don't use fake memory card or generous brand card.
First Class customer service and 1 year warranty guaranteed. All emails will be replied in 24 hour, 100% satisfaction guaranteed. If you want to use 64G card in this dash cam, please download "DiskGenius4.7.1" and format TF card to "FAT32" Edition
Bestseller No. 7
Car Dash Camera Dashboard FULL 1080P 3.0 Inch Screen dash cam 170 Degree Super Wide Angle Cameras Recorder Support G-Sensor, Motion Detection Parking Mode Night Vision
【1080P FULL HD RESOLUTION】capture 5 lanes of traffic in Full HD 1920x1080 at 30fps even at night, important clear video evidence can be timely provided to police and insurance institutions, easy to address accident and distinguish responsibility, making your life easier and safer
【EMERGENCY ACCIDENT LOCK & 24 HOURS MONITORING】Triggered by internal G-sensor and Parking Guard, the camera will automatically capture and lock videos of unexpected incidents both driving and parking. Locked video is potentially critical in an insurance claim. Loop Recording enabling camera to seamless record. 8 powerful features 24 Hours guard your car
【EASY TO SETUP & PLAYBACK】Just simply mount it to windshield, connect the power cable, the dashcam will automatically turn on/off with the car engine starts/ shuts off. Perfect for new or experienced motorists. Ultra clear 3.0" LCD display for ease of playback and menu selection
【DURABLE & SAFETY METAL SHELL】Designed with superior chip, the dash camera has stable performance. With zinc alloy metal shell, it has good performance of heat dissipation, anti-collision and explosion-proof. The car camera protect data in temperatures ranging from a freezing -20℉ to a blistering 160℉
【WHAT YOU GET& WARRANTY】 Dash Cam Unit, Power Cable,User Guide ,Suction Mount and USB Charger Cable; 12 Month Warranty - Lifetime Friendly Customer Service
Bestseller No. 8
MERRiLL Dash Cam WiFi Dual lens 1296P 15 megapixel Car Camera 170° Wide Angle Night Vision and 32GB card 
1. Special Design: Sports-car styling camera, Hollowed-out Body with excellent cooling performance, perfect combination of function and appearance; Always provide you all-round protection silently and virtually.
2. WiFi function - share at anytime. Use WiFi Camera APP to connect the dash cam with your mobile phone, you can real-time view, take photos, record videos, playback, download the recorded files to your smart-phone and edit and share them on Facebook, Twitter or other social network easily and freely. Record all wonderful moments and share joys with your friends.
3. High performance beyond your imagination: dual lens simultaneously recording, super 1296p resolution, 30fps, H.264 video compression technology, 170 degree ultra wide-angle 6-layers glass lens, F1.8 apertures obtain full 6 lane coverage with first-class night vision, WDR and 15 megapixel can provide clearer and higher quality images.
4. Use high sensitivity gravity sensor and supports loop recording, motion detection, parking monitor and ADAS (Advanced Driver Assistance Systems), ensure safe driving and brings you new driving experience.
5. Unparalleled whole-life customer service after sale, 36-month warranty. Supports max up to 128G TF Card, Gifted a MERRiLL original 32G TF Card that can store 6 hours of videos.
Bestseller No. 9
KDLINKS R100 Ultra HD 1296P Front + 1080P Rear 280° Wide Angle Anti-Glare Rearview Mirror Dual Lens Dash Cam with IPS 5" Screen, Superior Night Mode, Advanced Dashcam Parking Mode, Support 64/128GB
Rearview Mounted Camera - A standard review mirror with built-in 5" IPS screen, our dash cam mount offers single front or front/dual cam modes with hands-free, high-definition recording clarity at 30 fps in a continuous loop.
Automatic Motion Detection - Once movement is detected, the R100 begins recording for a short period of time-and shuts off automatically-even if the vehicle is off. This advanced parking mode is essential for protecting parked cars!
Superior Night Vision - The 6-glass lens design and wide dynamic range (WDR) give you high-definition video recording both day and night. What's more, you'll enjoy a digital 1296P front camera and 1080P wide angle rear camera for full HD coverage.
High-Power, Built-In Battery - Each dash cam system not only features an HD IPS screen, it supports a 64GB or 128GB micro SD card and boasts an 800mAh internal battery to provide long-lasting support even without constant power input.
Trusted 1-Year Warranty - Every KDLINKS R100 dual dash cam kit is backed by premier customer support, unbeatable craftsmanship and quality, and a reliable 1-year warranty to ensure you get the best product and year-round support.
Bestseller No. 10
Record Everything Outside The Cab!
Did you find what you were looking for? Please share this list of dash cams for truckers with your co-workers and they also make the perfect gift for a loved one who lives on the road… Take Care!
We also recommend checking out these deals on the best dash cameras for motorcycles…
* Last updated on 2018-02-25 at 10:04.